Library Guided Tour and Library Guidance in English

Sept. 10, 2019
Why don't you join the library guided tour and the guidance for the Tokyo Metropolitan Central Library?
The tour and the guidance will be held in English on Tuesday, October 8, 2019. Free of charge.
We are now inviting participants to the backstage tour and the library guidance as follows.
Click on the image to enlarge the flyer, it will open a PDF file (618KB).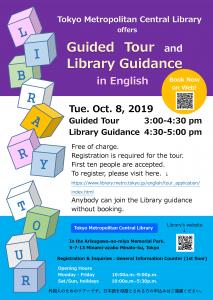 Library Guided Tour
Explore the library and look behind the scenes, including the basement of the library. It would be very interesting to see how our skilled staffs restore books published in the Edo period 300 years ago. Registration is required for the tour. The first 10 people are accepted.
Time for the tour
3:00p.m.-4:30p.m. Tuesday, October 8, 2019
How to book the tour
Please fill in the following form and submit it. You can also book in person at the General Information Counter in the Tokyo Metropolitan Central Library.
Library Guidance
We would like to show you how to use our library. You will learn how to search the Library catalog and request books in the closed stacks and how to make copies of the materials. You can also use internet and some databases for free. No booking is necessary for the guidance. Please come to the entrance by 4:30p.m.
Time for the Guidance
4:30p.m.-5:00p.m. Tuesday, October 8, 2019
Application