---
---
Shōheizaka Gakumonsho: The Highest Educational Institution for the Samurai Class:
The Shogunate and feudal domains tried to maintain Shinōkōshō (feudal social structure composed of samurai, farming trade and merchant classes) by an education and knowledge of Confucianism. The institution built by the Shogunate to realize this education was the Shōheizaka Gakumonsho (the school at Shōheizaka). Meanwhile, schools established within the feudal domains were called hankō (domain schools).
From the 18th century, hankō were built in almost all feudal domains to develop human resources capable of instituting administrative reforms. Many samurai children gained a heightened understanding of kangaku (classics) at such schools, and it became a basis for later Confucian learning. At such schools, children were taught the basics of Confucianism through the study of texts such as the "Analects of Confucius" and the "Great Learning," these being two volumes of the "Four Books and Five Classics."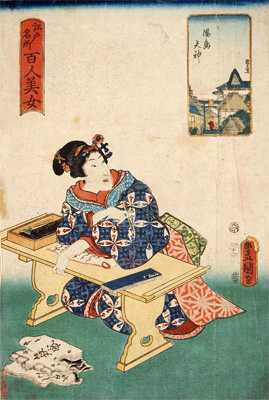 Famous Edo Spots and a Hundred Beautiful Women, Yushima Tenjin
(Edo Meisho Hyakunin Bijyo Yushima Tenjin)
Painted by Utagawa Toyokuni III and Utagawa Kunihisa II
1857 (Ansei 4)
Shōheizaka Gakumonsho was located in Yushima in Bunkyō Ward. It was formerly privately-run by a descendant of Hayashi Razan (1583-1657), a Confucian tutor of the Tokugawa Shogunate. The school became state-run during the Kansei Reforms (1787-1793). After the Kansei Reforms, many other schools were founded by the Shogunate, near Edo castle that were dedicated to medicine, wagaku (Japanese learning) and yōgaku (Western learning). After this an educational system was established for samurai from domains throughout to study at these schools, not just vassals of the Shogunate.
* To view more explanation, please click the each image.
---