---
---
Spring (January - March)
January
Spring coincided with the New Year during the Edo period. It was a seasonal tradition that the local feudal lords made official visits to the Edo Castle for three consecutive days from the 1st of January to the 3rd or January. Moreover, the 2nd day of January was, Genso, the busiest time of the year, in which many people began selling and buying things for the first time in the year. Throughout January, there were many ordinary people who visited temples and shrines here and there in the city in order to pay their respects to the Seven Gods of Good Fortune.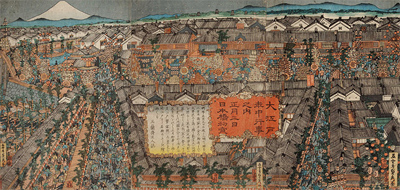 Events in Ōedo Held Throughout the Year: First Sale on the Second Day of New Years in Nihonbashi (Ōedo Nenchū Gyōji no Uchi Shōgatsu Futsuka Nihonbashi Hatsu-uri) Painted by Hashimoto Sadahide 1860 (Manen 1)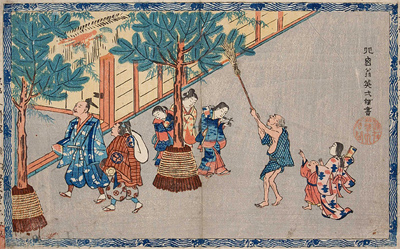 Hanabusa Itcho Twelve Months: New Years (Hanabusa Iccho Jūnikagetu no Uchi Shōgatsu) Painted by Hanabusa Icchō
February
A major Edo festival of spring is Hatsuuma-matsuri, which held in the city of Edo on the first day of Uma (the horse in the Chinese zodiac) in February every year. Ōji-Inari Shrine and Tsumagoi-Inari Shrine were two particularly popular destinations among Edo residents and they were given the title 'Inari-Sōshi' ('chief Inari shrines').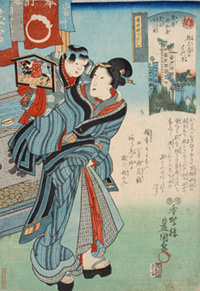 Ise Calenar Selection, Twelve Indicators of the Luck of Each day, Osan, the Day of the Horse in Umemizuki (February), Collection of Inscriptions from the Midsection of Calendars (Isegoyomi Mitate Jūnichoku Osan Umemizuki no Hatsu-uma Koyomi Chūdan Dukushi) Painted by Utagawa Toyokuni III Around 1847 - 1848 (Kōka 4 - Kaei 1)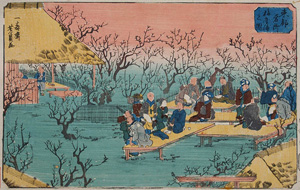 Famous Places of the Tokyo Metropolis, Illustration of Umeyashiki (Tōto Meisho Umeyashiki no Zu) Painted by Utagawa Yoshikazu 1853 (Kaei 6)
March
It has been a popular tradition since from the Edo period up to today to celebrate the festivals of Hinamatsuri (dolls festival) and Momono-sekku (peach festival). Many markets appeared in various locations including in Jikkendana (today's Muromachi in Nihonbashi).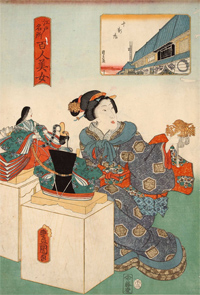 Famous Places in Edo, Hundred Beautiful Women, Jikkendana (Edo Meisho Hyaku-nin Bijo Jikkendana) Painted by Utagawa Toyokuni III and Utagawa Kunihisa II 1858 (Ansei 5)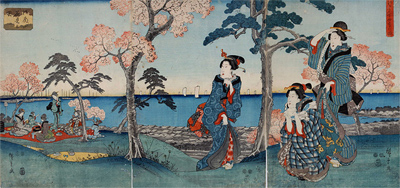 Painting of Hanami in Goten-yama (Edo Meisyo Shiki no Nagame Goten-yama Hanami no Zu)
Painted by Utagawa Hiroshige I
Around 1847 - 1848 (Kōka 4 - Kaei 1)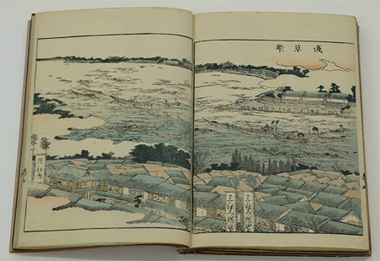 Asakusa Festival from "Picture Book: Amusements of Edo"
(Ehon Azuma Asobi Asakusa Matsuri)
Painted by Katsushika Hokusai 1802 (Kyōwa 2)
Soon after the festival, people enjoyed sakura(cherry blossom) viewing. Many Edo residents indeed visited beauty spots to enjoy sakura(cherry blossoms), such as Sumida River, Ueno, Nippori, Asukayama in Ōji, Tamagawa-jōsuinotsutsumi in Koganei, and others.
* To view more explanation, please click the each image.
---