---
---
Autumn (July - September)
July
Festivals such as the Star Festival (Tanabata) and the Festival of Souls (Obon) have been held in July and August up to today. In the city of Edo, markets called "kusaichi" appeared in various locations and necessary items for the Festival of Souls (Obon) were put on the market. The unabbreviated name of "Obon" is "Urabon-e", which means greeting one's ancestors and sending them off to the other world. For the people who worked as merchants, the 16th was a day off called Yabuiri, and they could go to a theatre to see a play or make a visit to a shrine or temple.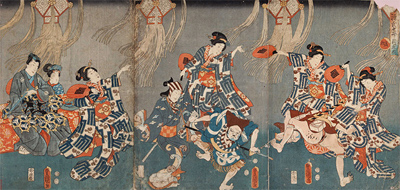 From the Genji Twelve Months: the Beginning of Autumn (Genji Jū-ni Kagetsu no Uchi, Mōshū)
Painted by Utagawa Toyokuni III 1856 (Ansei 3)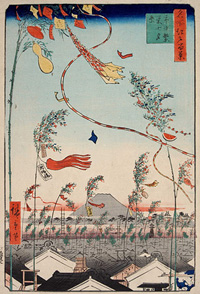 One Hundred Famous Views of Famous Places in Edo, The City Flourishing,
the Tanabata Festival (Meisho Edo Hyakkei Shichū Hanei Tanabata Matsuri)
Painted by Utagawa Hiroshige I 1854-1860 (During the Ansei Period)
August
The days gradually become shorter in August and this indicates that autumn is on its way. The 1st of August, which is called Hassaku-no-hi, is a very important holiday for the Tokugawa Shogunate and various events were performed since the Tokugawa Ieyasu, who later became the first Tokugawa Shogun, entered the city of Edo on the same day in 1590 (the 18th year of Tempō era).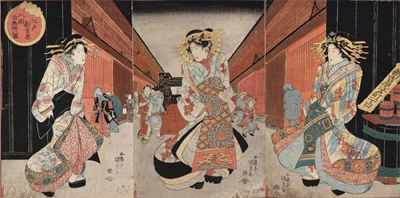 Illustration of Edo Shin-Yoshiwara Hassaku Shiromuku (Edo Shin-Yoshiwara Hassaku Shiromuku no Zu)
Painted by Utagawa Kunisada Around 1822 - 1823 (Bunsei 5 to 6)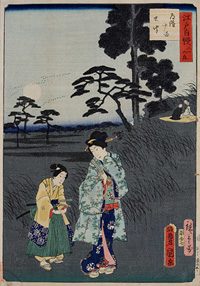 Thirty-six Views of the Pride of Edo, Listening to the Insects at Dōkan-yama
(Edo Jiman Sanjūrokkyō Dōkan-yama Mushi-kiki)
Painted by Utagawa Toyokuni III and Utagawa Hiroshige II 1864 (Genji 1)
September
The 9th of September is called Chōyō-no-sekku or Kiku-no-sekku as there is a double 9, which is a lucky number and so this makes the day most auspicious. Visitors are able to drink some kikuzake (chrysanthemum sake) in the hope of perpetual youth and longevity at Sensōji in Asakusa and this attracts many visitors to join the memorial service for broken needles (harikuyō). One other event people look forward to in September is the Kanda Myōjin-matsuri. In particular, the people who lived in downtown areas regarded this festival as the most important one.
* To view more explanation, please click the each image.
---