---
---
Gathering of people in the 'ren' salon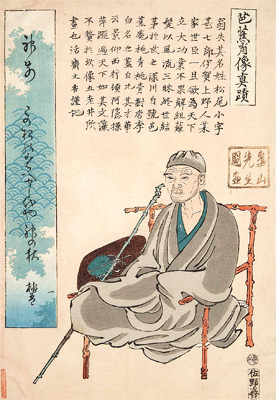 An Authentic Portrait of Bashō (Bashō Shōzō Shinseki)
Painted by Watanabe Kazan 1830-1844 (During the Tempō period)
Haikai (linked verses) was one of the most important literary genres of the Edo period. Matsuo Bashō (1644-1694) was a leading figure in the development of this literary form. He introduced his own particular style of haikai called shōfū (the Bashō style) which led to a boom not only in Edo but also throughout the country.
Haikai was a communal poetic form cooperatively written by two or more participants. It could not be achieved alone. In pursuing this form, people created groups called ren (linkages). Ren means both an occasion, and the people who create haikai together. Thus, the growing popularity of haikai during the Edo period resulted in a growing number of ren nationwide. Many ren emerged in Edo, most being formed for unique purposes. The most popular ren pursued kyōka (crazy songs); such groups in the 18th century often consisted of writers, painters, story tellers, and bookshop owners, etc. These occupations were seen as leaders of Edo culture. Furthermore, senryū (satirical haiku), which also evolved around the same time, influenced many ren.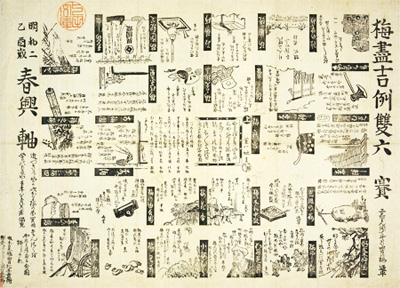 Plum Series: Beautiful Customs Sugoroku (Ume-zukushi Kichirei Sugoroku)
Painted by Hanabusa Icchō 1765 (Meiwa 2)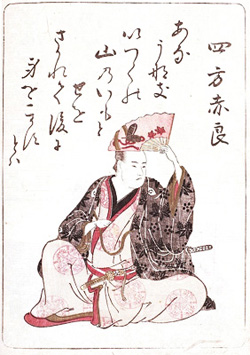 Eastern-Style Comic Tanka Library (Azumaburi Kyōka Bunko)
Painted by Kitao Masanobu, and selected by Yadoya Meshimori
1786 (Tenmei 6)
Thus, both kyōka and senryū were art forms that emerged from the network of people living in the cultural city of Edo.
* To view more explanation, please click the each image.
---