---
---
Edo Residents Preferred Quiet Elegance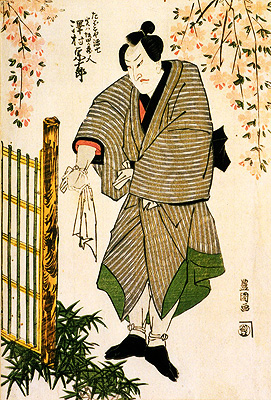 Sakata no Kurōdo Disguised as Tobacconist Genshichi, Sawamura Sōjuro (Tabako-ya Genshichi Jitsuwa Sakata no Kuroudo Sawamura Sojuro) Painted by Utagawa Toyokuni I 1812 (Bunkyū 9)
The idea of being an Edo native, born and breed, was defined by the term, Edokko, which started to appear during the 18th Century as the city was on the verge of obtaining a sense of maturity. The term, Iki, meaning chic or stylish describes a sense of aesthetics that were shared among many people born and breed in Edo.
What kind of clothing did they wear during the period? According to wood block prints, Edo residents must have had a surprisingly modest sense of dress. They seemed to have preferred solid colour, small-pattern prints and vertical stripe designs, and used quiet and elegant colours such as browns, grays, and indigo blues. However, they paid quite a lot of money for the lining cloth, choosing vivid colours and textiles. Furthermore, they preferred to use elegant and refined small products such as pipes (kiseru), cigarette cases, towels, and miniature sculptures (e.g. netsuke).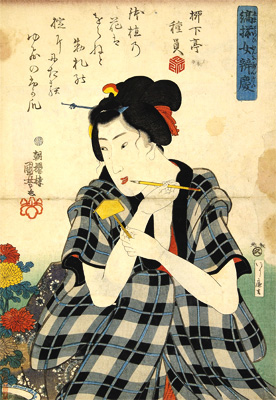 Beautiful Women Dressed in Kimono with Benkei-style Pattern: Chronicle of the Battle of Ichinotani (Shimazoroi Onna Benkei Ichinotani Futaba Gunki) Painted by Utagawa Kuniyoshi 1844 (Tempō 15)
One of the element of the term "Iki" is their small rebellious feeling toward the government. The Tokugawa Shogunate often banned Edo townspeople from using extravagant fabrics including silks for clothing. Thus, it was probably the people's intention to do something rebellious but in an elegant manner. They actually wore modest clothing in appearance, but inside their garments they tried to decorate with refined details, or use some small ornate articles, such as elaborate netsuke or pipe, which was a way to express their own rebellious feelings in their own ways.
* To view more explanation, please click the each image.
---