---
---
Special Products Brought from All Parts of the Country to Edo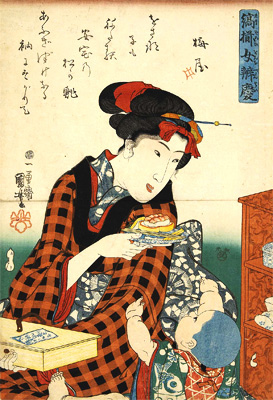 Beautiful Women Dressed in Kimono with Benkei-style Pattern:
Akataka's Pine (Shimazoroi Onnabenkei Atakanomatsu)
Painted by Utagawa Kuniyoshi 1844 (Tempō 15)
There are other reasons why the food culture evolved during the Edo period. Firstly, according to the development of agriculture the production capacities for rice, vegetables and fruit, etc., all increased. The development of a fishing industry also allowed for a greater variety in seafood caught. However the most important reason is that both land and sea distribution networks were established during the Edo period. This system allowed merchants to supply both produce and seafood from areas throughout the nation to cities such as Edo.
Almost anything could be transported to the city in the middle of the Edo period. Products available included agricultural produce such as rice, vegetables and fruit, etc., that were brought to Edo from all over the country including neighboring rural communities ; while condiments including alcohol, vinegars, soy sauces, and mirin (rice wine used for cooking), etc., could also be obtained. Even soup stocks and luxury items were transported. Of the many products that found their way to Edo, sake (rice wine) brought by sea from Itami and Nada (present-day Hyogo Prefecture) was called kudari-zake. It was loved for its high quality.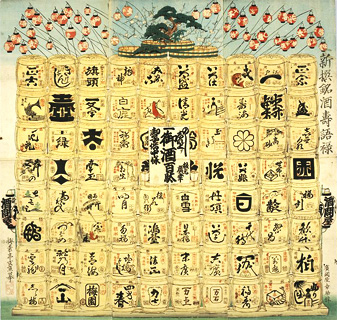 Sugoroku for Newly Selected Famous Sake (Shinsen Meishu Sugoroku)
Painted by Baisotei Gengyo 1861 (Bunkyū 1)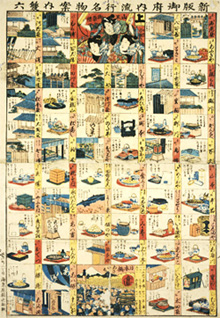 Sugoroku for Introducing Popular Local Specialties of Edo, New Edition
(Shinpan Gofunai Ryūkōmeibutsu Annnai Surogoku)
Painted by Utagawa Yoshitsuya Around 1848-1854 (During the Kaei period)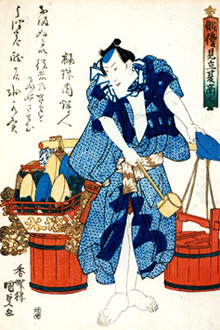 Actor Immitating Summer Peddling (Haiyū Mitate Natsu Shōbai)
Painted by Utagawa Kunisada 1830-1844 (During the Tempō period)
The soy sauce of Chōshi and Noda (present-day Chiba Prefecture), the soybean pastes (miso) of Mikawa (present-day Aichi Prefecture), and dried tuna flakes (katsuobushi) from Tosa (present-day Kōchi Prefecture) were also well received. Indeed, these products and others contributed to the development of Edo's food culture. One example is offered by kasuzu, a type of vinegar that hailed from Owari (the western half of present-day Aichi Prefecture). It was judged as being ideal for nigiri sushi (sushi), a native dish of Edo. It is claimed that using this vinegar actually promoted sushi sales.
* To view more explanation, please click the each image.
---