---
---
Reconstruction of the city after "Great Fire of Meireki"
The Great Fire which blazed from January 18th to 20th in the year 1657 (commonly known as the furisode or long-sleeved kimono fire) devastated the city of Edo. It is said that approximately 60 percent of the city was burnt down and as for the death toll, estimates range from 30,000 to 100,000. When you consider that the population of Edo at the time was around 300,000, you can have a sense of the enormous scale of the disaster.
As a result of the Great Fire, Edo's townscape was radically reformed. This was the beginning of a new town development that placed importance on disaster prevention. Residences of feudal lords and temples and shrines were relocated towards the outskirts. In order to prevent fire spreading, large roads and embankments known as were built. Around this time, the outskirt communities of Honjo and Fukagawa developed and became part of the city and also a bridge called Ryōgoku-bashi was built linking Musashi-no-kuni and Shimousa-no-kuni.
In this way, the peripheral areas of Edo became increasingly urbanized. Edo was originally a city with an 8 kilometer radius with the castle at the center, but this had massively expanded to an approximately 16 kilometer radius.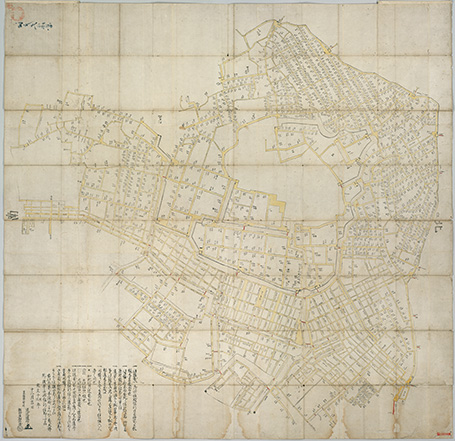 The New Editions of Extensive Maps of Edo Covering the Area
from Kōjimachi to Nihonbashi, Kyōbashi, Uchisakurada, and Shibasuji (Shinpan Edo Ō-ezu)
Drawn by Ochikochi Dōin 1670 (Kanbun 10)
* To view more explanation, please click the each image.
---