---
---
Matsunorōka and Genroku Akō incident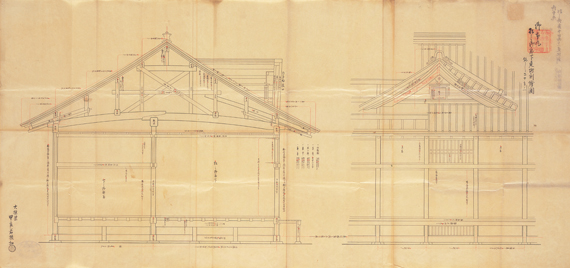 Cross-sectional Plan of Matsunorōka, Honmaru Palace (Go-Honmaru Matsunorōka Tatejiwari Ezu)
[Important cultural property related to the construction of Edo Castle]
Duplicate of the original by Kōra Wakasa
The corridor leading to the Shiro Shoin is the longest and most spacious in all of the Honmaru Palace. Its walls are painted with images of pine trees, giving it its name (matsu means "pine tree" in Japanese). In the year 1701, Asano Naganori drew his sword and attacked Kira Yoshihisa in this hallway. Because the hallway connected the formal Ō-hiroma and Shiro Shoin and was an important place for holding ceremonies, the Tokugawa Shogunate punished Asano very severely for creating bloodshed there.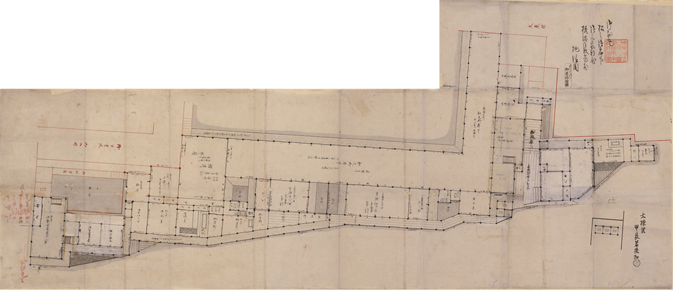 Floor Plan of Sakuradamari Tea Room Style Chamber for Gosanke Households at Matsunorōka, Honmaru Palace
(Go-Honmaru Matsunoo-rōka Gosanke Beya Sakuradamari O-Sukiya Jiezu)
[Important cultural property related to the construction of Edo Castle]
Duplicate of the original by Kōra Wakasa
The series of events that followed—from the attack in the Matsunorōka through the vengeance by Naganori's vassals—captured the hearts of citizens, though much against the Tokugawa Shogunate's will. The incident was immortalized in popular kabuki plays, ukiyoe woodblock prints, illustrated entertainment books, and other art forms and had a strong influence on the culture of Edo.
* To view more explanation, please click the each image.
---